The Nature Conservancy is hosting a local Riverine Early Detectors (RED) classroom training and paddle on June 25. During the free training, Anna Moyer and Tina Wolbers, WDNR will teach you to monitor your river by canoe, kayak, or on foot for species of concern. The protocols are easy and fun. Along with invasive species monitoring Lisie Kitchel, WDNR will teach how to monitor for native clams and the invasive Asian clam that is in the Mukwonago River.
The Project RED training is scheduled for June 25, 2013 at 9:00am at the Lakeview Lodge on the Lulu Nature Preserve, N9564 Nature Road, Eagle, WI.  A paddle on the Mukwonago River will be held after lunch.  Please contact Anna Moyer at 920-838-2715 or anna.moyer@wisconsin.gov. Canoes will be available but feel free to bring your own, and please bring a packed lunch. 
We hope that as you paddle, hike, tube, bike, fish and swim this summer along our rivers and streams, you assist us in keeping an eye out for invasive species and report any suspicious findings.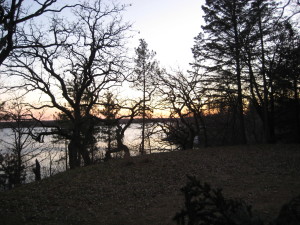 PREVENT THE SPREAD:
WIPE YOUR FEET.
INSPECT ALL EQUIPMENT INCLUDING YOUR BOOTS AND BOATS BEFORE AND AFTER MONITORING.
CLEAN OFF ALL PLANTS, ANIMALS AND MUD.
BAG IT.  WHEN COLLECTING SAMPLES BE SURE TO BAG THEM IMMEDIATELY.  DO NOT PLACE SPECIMENS IN THE BOTTOM OF THE BOAT TO BE BAGGED LATER.  IT ONLY TAKES A FRAGMENT OF A PLANT OR ONE SNAIL IN MOST CASES TO START A NEW INFESTATION.
GO WITH THE FLOW.  MONITOR FROM UPSTREAM TO DOWNSTREAM TO HELP PREVENT THE INTRODUCTION OF INVASIVES IN THE HEADWATERS.
LOSE THE FELT.  FELT SOLED WADING BOOTS ARE MORE LIKELY TO HARBOR INVASIVE SPECIES. WE RECOMMEND USING HARD RUBBER BOOTS,  NOT FELT.
LEAVE 'EM HIGH AND DRY.  LET ALL EQUIPMENT DRY BEFORE MOVING FROM ONE WATERBODY TO AN-OTHER.
Remember only you can protect your waters and stop aquatic hitchhikers!